古刹修禅寺での『写経』体験
The next SHAKYO (Sutra Copying) sessions are scheduled for ・・・
2024

Jan. 7th(SUN) 10:00AM
Jan. 8th(MON) 10:00AM
Feb. 11th(SUN) 10:00AM
Feb. 12th(MON) 10:00AM
Mar. 9th(SAT) 10:00AM
Mar. 10th(SUN) 10:00AM
次の写経会の開催は・・・
2024年

1/7(日)10:00  
1/8(月・祝)10:00
2/11(日)10:00
2/12(月・祝)10:00 
3/9(土)10:00
3/10(日)10:00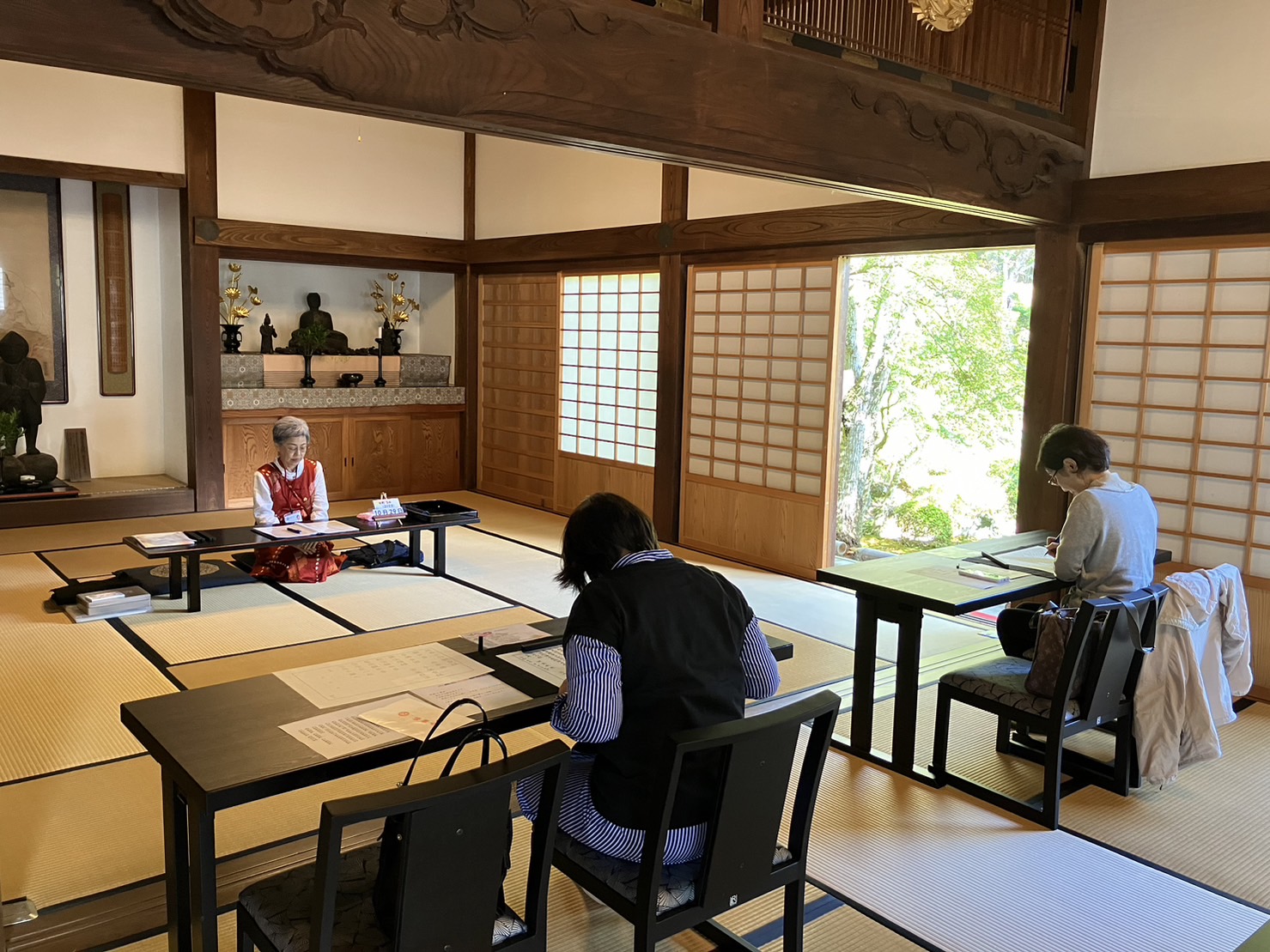 Try 'Shakyo,'(Sutra Copying) a Meditative Practice.
Join us at the ancient temple 'Shuzenji' for approximately 1 hour of 'Shakyo.' Immerse yourself in a tranquil rhythm and experience mindfulness.

書く坐禅とも言われる「写経」を試してみませんか。 古刹「修禅寺」で約1時間の「写経」を楽しみましょう。

No prior preparation is necessary; we'll provide all the materials you need.
事前準備なし。初めての方が体験しやすいようにふでペンで行います。

Reservation required
Tour fee : 2000yen / person
(cash payment)
What's included : Shakyo session,
Treasure hall admission fee,
Private Japanese garden view,
Goshuin stamp for certificate,
Meeting Time : 15min before start 
Meeting Point : Shuzenji Temple
Time Required : 2 hours
Kids : No , Wheelchair : No


参加費 : 2,000円/おひとり(現金のみ)
参加費に含まれるもの : 写経(納経料)
宝物館入館料、御朱印、庭園の見学
集合時間 : 開始の15分前
集合場所 : 修禅寺写経入口
時  間 : 約2時間
参加資格 : 中学生以上
車いす参加 : ご参加頂けません

Reservation Deadline : 9 PM the day before. Shakyo session capped at 12 people. 
Please send your name and the number of participants via email. Your reservation is not confirmed until you receive a reply from Shuzenji SGG.  
お申込み締め切りは写経会前日の午後9時。お名前と人数、その他をお知らせ下さい。修善寺SGGから返信があるまでは確定ではありません。定員は12名です。
For schedules other than those mentioned above, a different pricing structure will apply.
Please inform us of your preferred date and the number of participants.
We will provide a separate quotation for your consideration.
The final starting time for the sutra copying session will be 1:00 PM.

上記以外での日程の場合は別の料金体系となります。
写経を体験したい日及び参加人数をお知らせ下さい。
別途お見積もり致します。最終の写経開始時刻は13時となります。

*required contents